By Gretchen Eisenberg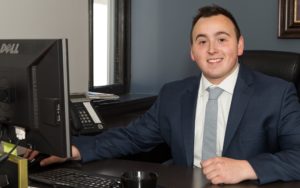 This blog post is the first in a six-part series where you will be introduced to everyone here at Key Financial Group.  We are starting with the newest financial advisor, Alex Villegas. He is someone you may have already met out at a Chamber of Commerce event, a local business networking meeting, volunteering in the community, or maybe even playing at a local lacrosse game near you.
As the Senior Client Associate, I have a unique opportunity to engage with our clients and see firsthand how important providing outstanding customer care every time, with every person is to our advisors.  Perhaps you have been in our office and experienced this for yourself.  I'm looking forward to helping you get to know more about everyone here.  So, without further adieu, here's my interview with Alex.
Can you tell us a bit about yourself? 
Well, I've lived in Maryland for most of my life and have been living in Frederick for the past 6 years. I am originally from of Carroll County where I'd say I did most of my growing up. After graduating from local Hood college, I realized I had fallen in love with the charm of Frederick and decided this is where I wanted to settle. Among other things, I am an avid sports fan, volunteer, and professional. I would describe my self as a great listener, a team player, and definitely a people person. I am very socially active so odds are if you see me, I'm either with a friend or out making new ones. I have found that these traits translate very well in my role here at Key Financial Group.
Who is your greatest role model?
I'd say I have two, and they would be my parents. I would not be who I am today if it weren't for them. My father has demonstrated a work ethic throughout my life that I can only hope to emulate. He taught me to work smart, not hard, and only to rest after a job well done. As for my mother, she taught me how to dream big and just "go for it". They have always been my biggest advocates and supporters and I am forever grateful for all they have done for me.
When not working and volunteering, what do you enjoy doing?
Like I mentioned, I am a huge sports fan so I try to catch a game whenever I can, especially when it comes to the NFL. In addition, I still play lacrosse for a few different men's leagues so that's something I always look forward too. Another thing I enjoy is being in downtown Frederick, there is always something to do or somewhere to go, whether it's a brewery or entertainment, downtown never disappoints.
Do you have a favorite Frederick restaurant or hangout?
That's a tough one. Frederick is so unique in that I rarely visit other cities that have as many locally owned restaurants. There are so many and they're all so good it's hard to narrow down to just one. If the weather is nice, you may find me on the Brewer's Alley rooftop.  If I'm looking for a great date spot, the Tasting Room is a must. That being said, pretty much everywhere is good; it just depends on the mood. This doesn't even bring into account the amazing food trucks that have started popping up.
When did you know that you wanted to become a financial advisor?
I got to college with the intention of being a business major. After taking my first finance class, I knew that was the route I wanted to take. I found the financial markets and different investment strategies fascinating. Upon taking an internship in the field, I started to understand what types of career paths finance can lead you down. As a social person, I knew I wanted to interact with people on a daily basis. Then on top of that, I get to help those people get to where they want to be in life. That was the icing on the cake that led me into this career.
I see that you went to Hood College, right in the heart of Frederick, Maryland.  Can you tell us some of your best memories/experiences made there?
My years at Hood were definitely some of the best times of my life. The relationships I made there will last for a lifetime. During my time there, I was a four-year member of the Men's Lacrosse team and a founding member of the Hood investment club known as the Blazing Alpha fund. In addition to the beautiful campus, I believe the professors are the greatest assets to the school. I have never met a group of professors who truly take it upon themselves to help students excel. They are kind, understanding, experts in their field, and most importantly they are always willing to meet one on one to help students. In my opinion, there aren't many places you can go to get an experience like that. Go Blazers!
You are often found volunteering and participating in networking events throughout the area.  What advice might you give a professional who may be a bit intimidated by the idea of getting involved in the community this way?
For someone who may be a little intimidated at the prospect of networking/getting involved, i would say try to change your mindset. I would tell them, "These are people just like you and me–most are kind, and most are helpful. People that network are at events for the same reason you are, and that's to make connections and form relationships. That's really all there is to it." Be yourself, be organic. In my opinion it's much easier to socialize that way.
How did you come to work at Key Financial Group?
During my senior year of college, I took an internship position with them since they were very close to Hood. From there, I got to know the managing partners a little better and what it really means to be an advisor. Upon completing my internship and graduation, they were looking to expand and asked if I was interested in being part of the team. Essentially, the fit was great and the timing was even better. It was an opportunity I knew I couldn't pass up.
According to an article in U.S. News & World Report, many millennials are reluctant to put their hard-earned savings into the stock market and end up putting almost their entire savings into low-interest savings accounts.  Do you have insights or advice for these young professionals as they consider their financial futures?
This is a great topic. I think, especially for younger generations, the reason for this reluctance stems from growing up and watching how hard the 2008 crisis hit their families. It was a rough time, and I think that has left some of those who are now old enough to invest a little weary of the financial markets. To combat this, it just takes a little bit of education and understanding. Diversification and risk tolerance are two major pillars to investing. Understanding these components can take a little bit of the emotion out of the subject and help people see the bigger picture.
While millennials may be considering how to begin investing, many of their grandparents and parents are getting a late start.  Perhaps, some feel that it's too late to do anything and just throw their hands up.  How do you feel that you and the other advisors here at Key Financial Group can help people in this situation?
To start, we would help them identify their needs and goals. From there we create a comprehensive plan on how we can achieve those objectives. We try to get them to understand that it is never to late to start and that every little bit counts when working up to a larger goal. For many people, it is a very intimate subject so we take it upon ourselves to truly listen and advise our client in their best interest.
If someone wants to schedule a time to meet with you to discuss the services offered at Key Financial, how should they get in contact with you?
Give me a call at the office, send me an email, flag me down on the street, you name it. I am pretty accessible and always open to conversation. I encourage anyone who would like to know what we can do for them to reach out, even if they just want to ask a question in general or pick my brain, please don't hesitate to connect.
240-215-4709
There is no guarantee that a diversified portfolio will enhance overall returns or outperform a non-diversified portfolio.  Diversification does not protect against market risk.  All investing involves risk, including the possible loss of principal.